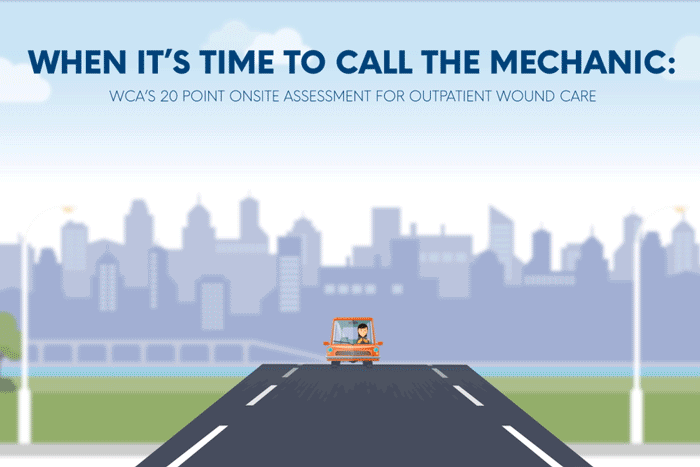 It's confession time: like any good, responsible vehicle owner, I know very little about how to fix my vehicle. Sure, I can handle routine maintenance like oil changes, brake light replacements and dead batteries – but anytime the dreaded "check engine" light comes on or a clackety sound starts while I'm driving down a despondent country road, I'm headed to my mechanic, completely at his mercy to fix things and get my vehicle running smoothly.
Is it a drive of shame rolling into my mechanic's garage? Of course not! There are some things about fixing my good old Chevy Traverse (don't judge my gas guzzler – try driving a Prius in two feet of snow in NW Iowa!) that I know nothing about and requires an expert to fix.
It's this same mindset that opens the door for our 20 Point Onsite Assessment for outpatient wound care programs. By no means is running a wound care program complex, but sometimes there are complexities that arise, and that's when programs start to experience knowledge and/or resource deficits. That doesn't mean the program is a failure, or that leadership doesn't know what they're doing, it just signals that it's time to call a mechanic! And smart leaders call in the experts early – before major problems arise.
When we travel onsite to a wound care program, we take a close look at 20 key aspects of your operations including hyperbaric oxygen therapy, your documentation practices and system, your revenue cycle, and we inquire about your community education efforts to learn the current state of affairs.
We also spend time shadowing your clinical and medical staff as they meet, greet, and treat patients. We're not looking at their ability to practice good wound care – we're examining the efficiency of the clinic flow model and getting a sense of the patient experience in your specific program. There will be many, many questions throughout the day and a lot of listening and observing.
Depending on the scope of the assessment and the number of programs we examine, we will either present our findings the next morning or, within a few weeks, we'll provide your hospital with a recommended roadmap for implementing positive changes. It's a quick, painless process that allows you to take advantage of our expertise without having to sign a long-term partnership contract.
Of all the ways we interact with potential hospital partners across the country, the 20 Point Onsite Assessment is my favorite approach. It's very tangible and quickly gets us out of the theoretical and into the concrete issues of your hospital, your program, and your community. The sales process is set aside and the tables are turned: I'm no longer trying to convince you that we know what we're doing. We come onsite and prove that we're experts in wound care. You get to meet us and experience our company culture to see if there's value alignment.
If your program is struggling and you're not sure how to improve it, contact me. We can have a candid conversation and see if our 20 Point Onsite Assessment is the appropriate solution for your program.