For nurses and clinicians new to the wound care space, seeking out certification and training specific to their role can be a benefit to themselves, their center, and their patients. But choices abound and certification programs are no small commitment of time, money, or energy. Before embarking on such a journey, either for yourself or your staff, it's vital to consider each option and decide which one fits your needs best. Here, we'll explore the various wound care certification programs, their requirements, and their associated benefits.
Educational Background and Eligibility
First, you'll want to consider your years of experience and educational background. This will rule out some options not yet available to you and point you to programs that will challenge you and grow your knowledge.
For instance, a Certified Wound Specialist (CWS) requires three years of combined experience, whereas a Wound Care Certified (WCC) only requires two years. Consider the trajectory of your career path. Where and when will a certification benefit you most? It may be worth waiting to earn a certification until you qualify for one that more closely aligns with your own career goals.
During the earlier years of her career in nursing, Christina Le, Chief Nursing Officer of Wound Care Advantage, earned a Wound Care Certified (WCC) certification that she obtained through the WCC Preceptor Program, which allows clinicians with less than two years of required wound care experience to still obtain WCC certification. Christina says "WCC was a great beginning certification that allowed me to learn more about wound care with less years of experience."
Learn more about the WCC Preceptor Program that Christina participated in here.
Cost
The cost of wound care certification programs will also be a factor and can vary from program to program, ranging from $400-$600. Though not a small amount of money, this investment often pays for itself. According to the American Nurses Credentialing Center (ANCC), a board-certified nurse earns around $9,000 per year more than a non-certified professional. Talk with your supervisor about your decision as some employers may be willing to cover part of the cost of certification.
Certification Duration
Any certification you earn will need to be renewed at some point. Not only do renewal times differ between certifications, but the process as well. Some, like the Ostomy Management Specialist (OMS) Certification, allow for recertification via continuing education credits whereas others, like the Certified Wound Care Nurse (CWCN), require nurses to pass an exam administered by The Wound, Ostomy and Continence Nursing Certification Board.
Now that you know how to evaluate different certification programs, which one should you choose? Learn the differences between WCC, WOC, CWCN, and more!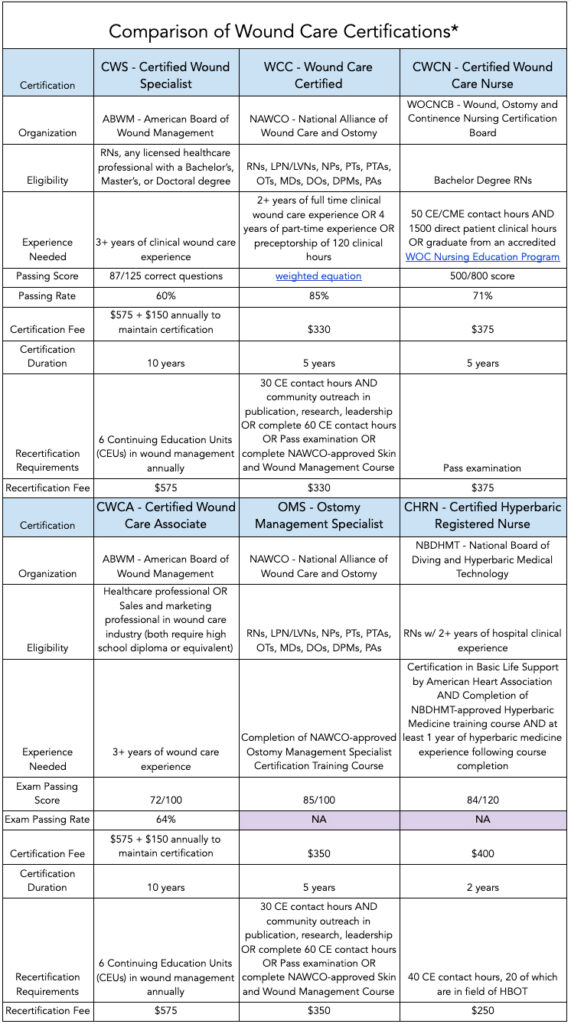 Though a wound care certification is not usually a requirement to work in outpatient wound care, it can help expand your knowledge of the field, open new opportunities, and improve your clinical skills. While this article is by no means exhaustive, it can help point you in the right direction as you seek more information and find the pathway best suited for you. Also, if you're looking for a nursing career in the field of wound care, please review our current openings at www.thewca.com/careers.