"Summer means many things to many different people, for us, it's surfing" – Endless Summer (1965) and if you're living with a chronic wound, it's not surfing, or probably anything beachy for that matter. Summer can become a difficult time of year for people living with chronic wounds, because most social events during these hot months can be a total wipeout for their healing progress. Trying to balance a non-healing wound and a summer social life can take a toll on mental well-being, and the body's healing ability. However, knowing what to do and what definitely NOT to do while having a wound, is how to line-up a woundless summer.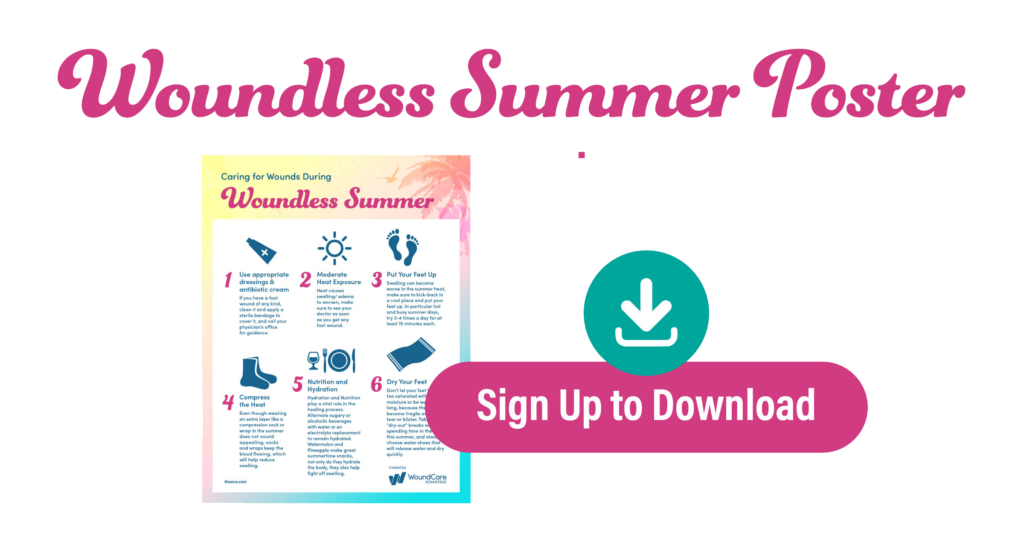 To download the free poster and handout, sign up for our Wound Talk education and trends email. Once submitted the poster download link will be emailed immediately to your inbox. We'll keep you up to date with more tips for patients, clinicians, and caregivers to stay woundless all summer!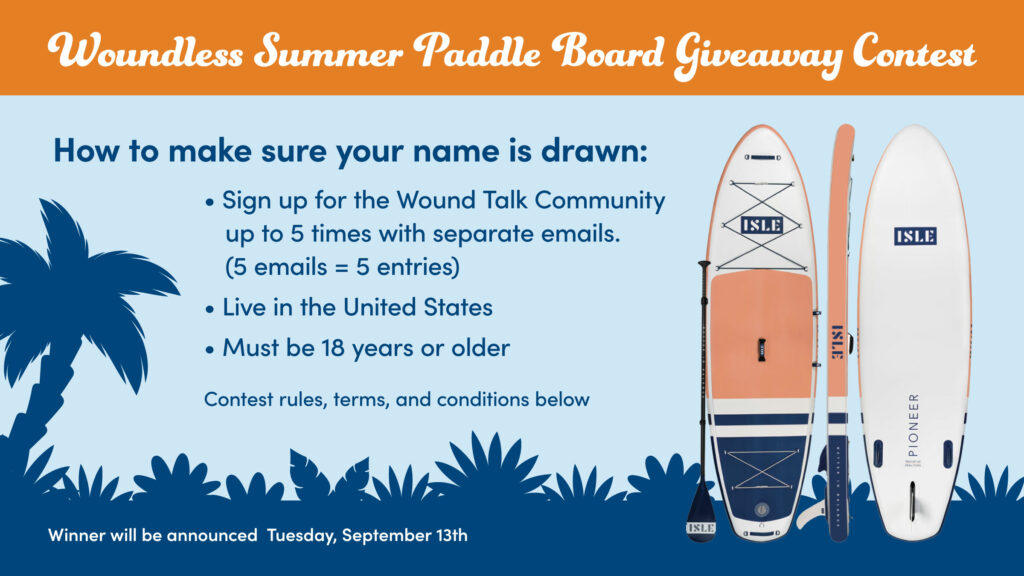 Kicking back at the beach or lounging poolside is generally not advised for anyone with an open sore (yes, that includes the minor burn from lighting fireworks). The beach, pools, lakes, rivers, basically where there is a body of water, there is also a micro breeding ground of bacteria, fighting for the chance to drop-in the skin break and give a solid 10 infection. Good news is, pool parties and beach days are not completely off the table for people with chronic wounds, there are just extra steps required in treating and taking care of the wound. This includes an appropriate dressing and an antibiotic cream recommended by the care team. The goal is to keep the main bandage over the wound dry and what is underneath clean. Look for waterproof tape and bandages to cover the initial dressing, and always change the dressing once it has become wet. Just remember, never forgo wearing the correct dressing or wrap during the summer, even if it leaves a gnarly tan line.
Summer wouldn't be summer without the barbecues and cook-outs. Bring on the delicious smoked meats, potato salad, and of course, the beverages that are stronger than water. Nutrition and hydration, the opposites of a jucy slab of ribs and a tall boy, but they are what helps keep wounds in the pipeline of healing. Even though the brewskis are rather refreshing, especially on a hot day, alcohol has a direct impact on the performance of a wound, pulling the entire body into the undertow. Those with chronic wounds should not avoid these foodie fests altogether, but to take consideration in food and beverage choices. Keep hydrated by alternating from water to non-water drinks, even if light beer is close to water, the body needs the real H₂O.
Keeping cool at outside events during the summer is on everyone's agenda, but when there is a chronic wound present on the body, that can be easier said than done. Not using the proper wraps and compression socks may seem like the best way to ride the heat wave, except it's not. Understanding why the wound needs proper dressing and swelling control is more important than ever during the endless summer days. Instead of not participating, or allowing the wound to end up in no man's land, keep cool by moderating sun exposure and kick back with your feet up, preferably with a glass of water. Items like umbrellas and portable canopies make great temporary shade to block direct sunlight.
Pool parties, standing around a barbecuer, soaking in the long days, some of the best parts of celebrating the summer months. Those living with a chronic wound should still be a part of the summer staples and enjoy them. Using the correct dressings, staying hydrated and nourished, along with remaining cool (temperature that is) will score more points in the healing process for a woundless summer. 
WOUNDLESS SUMMER PADDLE BOARD CONTEST TERMS AND CONDITIONS
The following official rules apply to the WCA Woundless Summer Paddle Board Contest to potentially win one (1) Pioneer inflatable paddle board (retail value $395), hereinafter referred to as the "Contest". To enter, entrants must agree to sign up for WCA's Wound Talk email, limited to five (5) entries per entrant. Entries accepted between July 21, 2022 12:00AM EST through September 12, 2022 11:59PM EST. Winner will be announced on September 13, 2022 by 8:00PM EST. Prize shall be shipped to winner within five (5) business days of winner announcement at WCA's expense. NO PURCHASE NECESSARY; A PURCHASE DOES NOT INCREASE YOUR CHANCES OF WINNING. Must be age 18 or over to participate. Must reside within the United States of America. WCA reserves the right to void any entry for any reason, solely at WCA's discretion. The Contest prize is provided "as-is" and may not be transferred, assigned, or substituted. Entrants may opt out at any time. The Contest is void where prohibited by law. Contact media@thewca.com for more information or support.