Ahh… Summer. Long hot days enjoying too much sun, sand between the toes, and the delicious benefits of outdoor cooking. The laid-back vibes in these months are not the easiest to create when trying to thwart off a wound from coming on. Actually, the patients most at risk of developing a chronic wound are dealing with a strong undertow of conditions, like diabetes, and that can be a real buzz kill when it comes to summer fun.
Luckily, the surf is still up for those patients, just with some extra precautions. Before paddling out to the horizon, use the below tips for a solid tow-in to a Woundless Summer.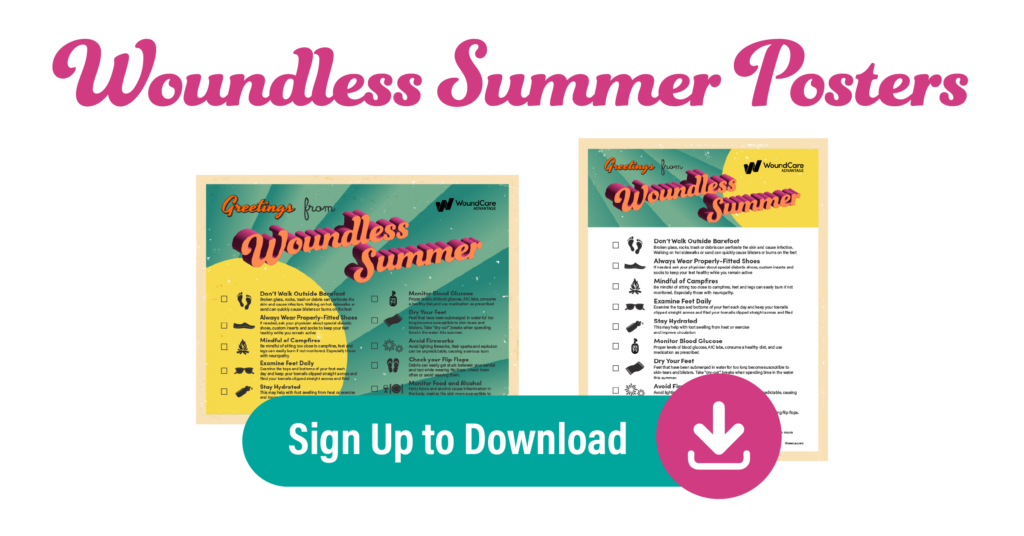 To download the free poster and handout, sign up for our Wound Talk education and trends email. Once submitted the poster download link will be emailed immediately to your inbox. We'll keep you up to date with more tips for patients, clinicians, and caregivers to stay woundless all summer!
Oh, Yeah…. did we forget to mention that just by signing up, you will also be placed in a drawing to win a Paddle Board?! Check out what you could win below and actually paddle out into the horizon!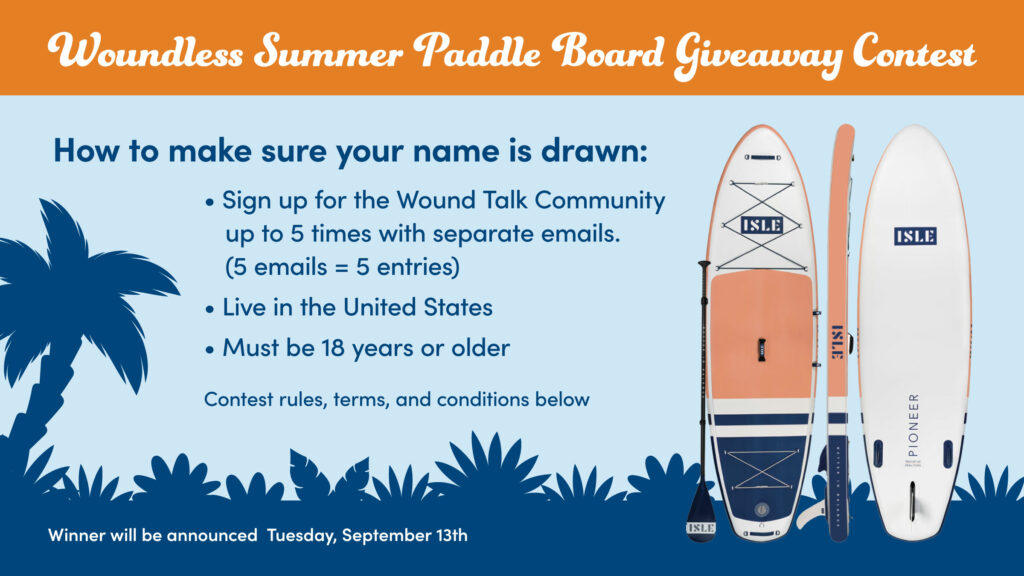 10 Tips to Keep Your Feet Woundless All Summer
Don't Walk Outside Barefoot

Broken glass, rocks, trash or debris can perforate the skin and cause infection. Walking on hot sidewalks or sand can quickly cause blisters or burns on the feet
Always Wear Properly-Fitted Shoes

If needed, ask your physician about special diabetic shoes, custom inserts and socks to keep your feet healthy while you remain active
Mindful of Campfires

Be mindful of sitting too close to campfires, feet and legs can easily burn if not monitored. Especially those with neuropathy.
Examine Feet Daily

Examine the tops and bottoms of your feet each day and keep your toenails clipped straight across and filed
Stay Hydrated

This may help with foot swelling from heat or exercise and improve circulation
Monitor Blood Glucose

Proper levels of blood glucose, A1C labs, consume a healthy diet, and use medication as prescribed
Dry Your Feet

Feet that have been submerged in water for too long become susceptible to skin-tears and blisters. Take "dry-out" breaks when spending time in the water this summer.
Avoid Fireworks

Avoid lighting fireworks, their sparks and explosion can be unpredictable, causing a serious burn
Check your Flip Flops

Debris can easily get stuck between your sandal and foot while wearing flip flops. Check them often or avoid wearing them.
Monitor Food and Alcohol

Fatty foods and alcohol cause inflammation in the body, and make the skin more susceptible to breaking-down.
For a Woundless Summer to never end, practice prevention and always be prepared for the day ahead.
"Packing for the journey was important. Six pairs of trunks, two boxes of wax, some modern sounds, and in case of injury, one bandaid." – Endless Summer (1965)
But maybe throw in an extra bandaid or two!
WOUNDLESS SUMMER PADDLE BOARD CONTEST TERMS AND CONDITIONS
The following official rules apply to the WCA Woundless Summer Paddle Board Contest to potentially win one (1) Pioneer inflatable paddle board (retail value $395), hereinafter referred to as the "Contest". To enter, entrants must agree to sign up for WCA's Wound Talk email, limited to five (5) entries per entrant. Entries accepted between July 21, 2022 12:00AM EST through September 12, 2022 11:59PM EST. Winner will be announced on September 13, 2022 by 8:00PM EST. Prize shall be shipped to winner within five (5) business days of winner announcement at WCA's expense. NO PURCHASE NECESSARY; A PURCHASE DOES NOT INCREASE YOUR CHANCES OF WINNING. Must be age 18 or over to participate. Must reside within the United States of America. WCA reserves the right to void any entry for any reason, solely at WCA's discretion. The Contest prize is provided "as-is" and may not be transferred, assigned, or substituted. Entrants may opt out at any time. The Contest is void where prohibited by law. Contact media@thewca.com for more information or support.