The upcoming changes CMS is proposing on CTPs in regards to the treatment of Diabetic Foot Ulcers and Venous Leg Ulcers may have an impact for wound care programs on Medicare coding, coverage, and reimbursement. However, knowing what those changes are and what it means for wound care programs is sometimes unclear. Below is a breakdown of what the proposed changes look like and what to take note on.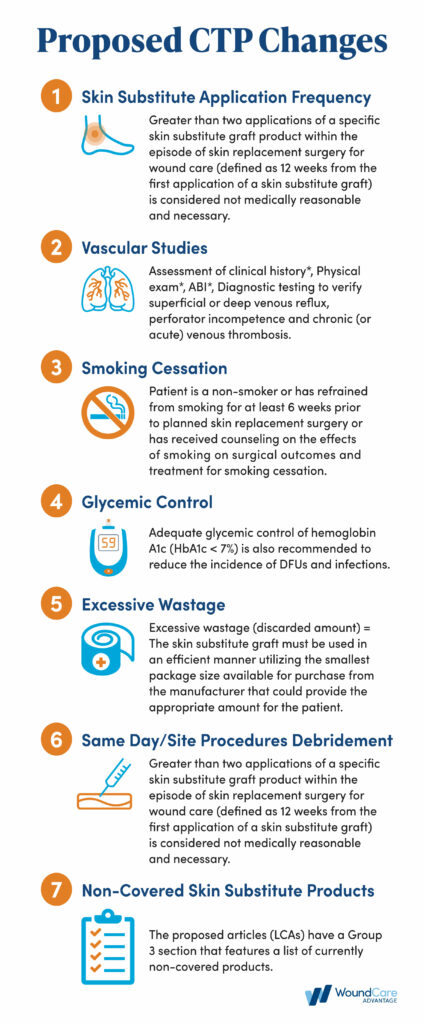 Download a printable version of this by signing up for our Wound Talk quarterly newsletter:
We would like to encourage you to visit the below First Coast LCD & LCA and Novitas LCD & LCA sites to read over the proposed changes, and form your own conclusion on the adjustments and training your program will need to make.
Links to proposed LCDs & LCAs:
First Coast:
LCD: (DL36377): Skin Substitutes for the Treatment of Diabetic Foot Ulcers and Venous Leg Ulcers
LCA (Article): (DA57680) Billing and Coding: Skin Substitutes for the Treatment of Diabetic Foot Ulcers and Venous Leg Ulcers
Novitas:
LCD: (DL35041): Skin Substitutes for the Treatment of Diabetic Foot Ulcers and Venous Leg Ulcers
LCA (Article): (DA54117) Billing and Coding: Skin Substitutes for the Treatment of Diabetic Foot Ulcers and Venous Leg Ulcers