From turkeys and ham, to the potatoes and candied yams all smothered in gravy, ending with a slice of grandma's pumpkin pie, nothing beats the holiday season like home cooked food on a snowy night. Unless you're living with a diabetic foot ulcer. Then, navigating all the gooey, fire-roasted, deep-fried deliciousness, snow-ball fighting, and ice skating traditions might be a little overwhelming.
However, living with diabetes and a chronic wound does not have to be challenging, or cause "bah-hum-bug" feeling around the holiday season. Here are five tips from real wound care nurses on how those living with a DFU can still experience the magic of winter festivities while maintaining their care plan: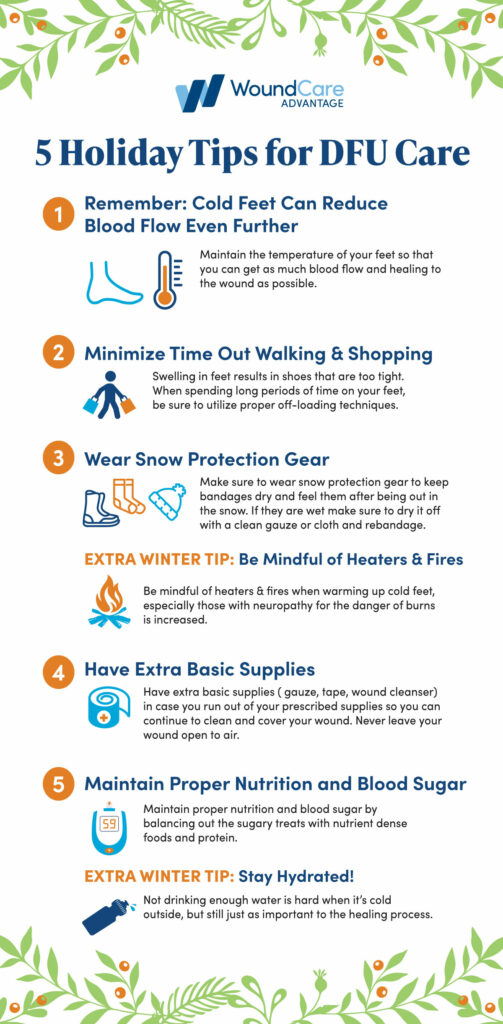 Never let a chronic wound get in the way of celebrating the holidays, just take extra precaution and always refer to the care plan and care team set in place for you. If you have questions or any concerns regarding the care or prevention of a chronic wound, do not hesitate to reach out to your local Wound Care center, or contact Wound Care Advantage to be set up with a wound care professional.
Happy Healing for the Holiday's from Wound Care Advantage!